At DoItForMe.Solutions, we know we can't do everything by ourselves. We have partnered with a select group of service providers and vendors to offer best-in-class hardware, software, and installation.
Electricians:
While the revolution in Do It Yourself (DIY) and Do It For Me (DIFM) smarthome products makes many things easy, working with high voltage, 110 Volt AC electricity is still a job best left to licensed professionals.
When we first started helping our customers with their smart homes, we often got a blank stare when we said "Just have your electrician do the hook up". Finding a great electrician is not easy and many homeowners do not know who to trust.
We're excited to announce that for our clients in the San Francisco Bay Area through Monterey/Carmel, we have teamed up with Full Spectrum Lighting & Electrical, a California licensed electrical contractor. FSLE has extensive experience working on both residential and commercial properties throughout the Bay Area and are ready to assist you.
FSLE is available for direct consultation for all your electrical needs including installing dimmers, light switches, outlets through flat screen TV installation, network cabling, and more. You'll work directly with FSLE – we don't mark-up their services or take a slice off the top (or the bottom) so you'll get expert work at great prices.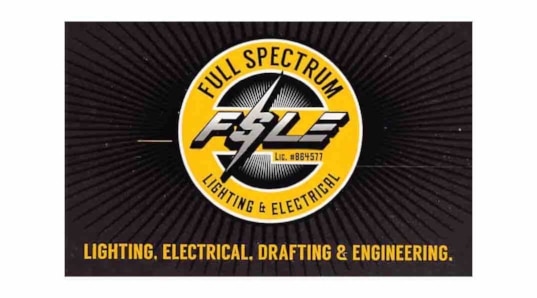 Manufacturer Dealer Programs, Authorizations, & Certifications:
We know that there are many different reasons for choosing specific products. Pricing, features, visual appearance, or simply past experience and preferences influence everyone's decisions.
We'll work with your favorites or what you already have installed. If you don't have a preference, or need guidance, we'll be glad to assist in recommending proven technology or help you in sorting through the many choices available.
In addition to buying, testing, and using products ourselves, we have established direct relationships with important manufacturers. Becoming authorized resellers, dealers, or partners not only proves we really understand how to install and use their products, but also provides us with VIP access to product information, technical support, and customer service.
Even if you have purchased the equipment on your own, we have the additional technical knowledge and in-depth training to help you squeeze every last ounce of capability and resolve those nagging problems or questions you may have.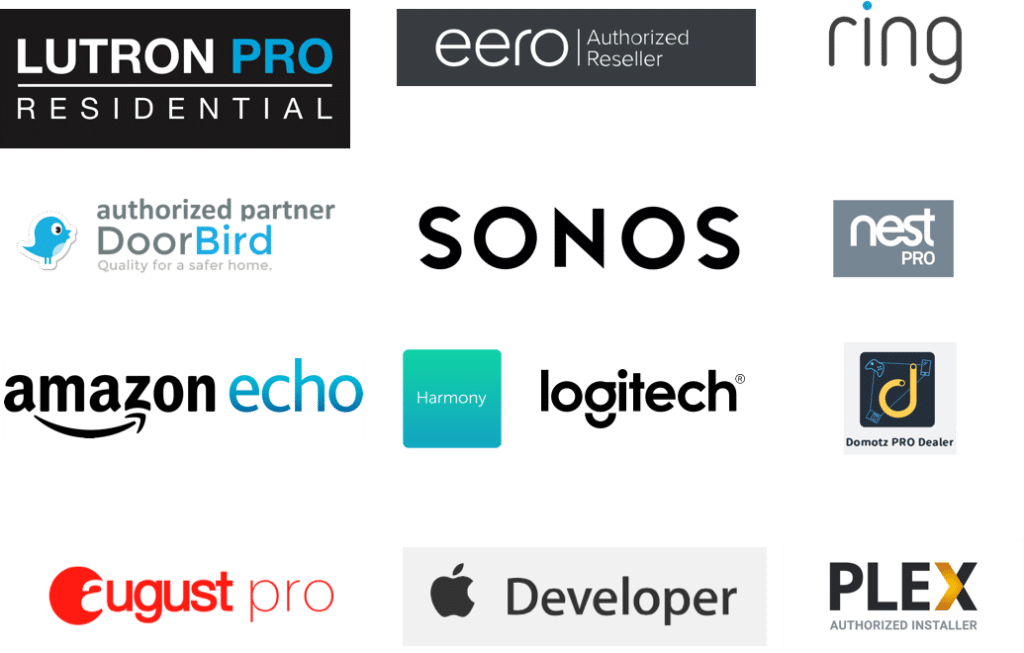 Lutron Pro Residential – Lighting Control Systems
Eero Authorized Reseller – Wi-Fi Mesh Networks
Ring – Video Doorbells, Security Cams, Security System
Sonos – Wireless Multi-room Audio, Soundbars & Home Theaters
Amazon Echo – Alexa Voice Control of Music, Smart Home, Timers, Alarms, Messaging, & More
Logitech Harmony Professional Installer – Integrated Control of Home Entertainment
Kwikset / Kevo – Smart Locks
Apple HomeKit SmartHome System
Apple Developer – App Development and Support
Savant – Complete Whole-Home Automation Systems
Ubiquiti Unifi – Wi-Fi, Networking, and Video Surveillance Systems
Abode – Assistance with DIY Security/Alarm System
Anthem – Advanced Audio/Video Stereo Receivers and Amplifiers