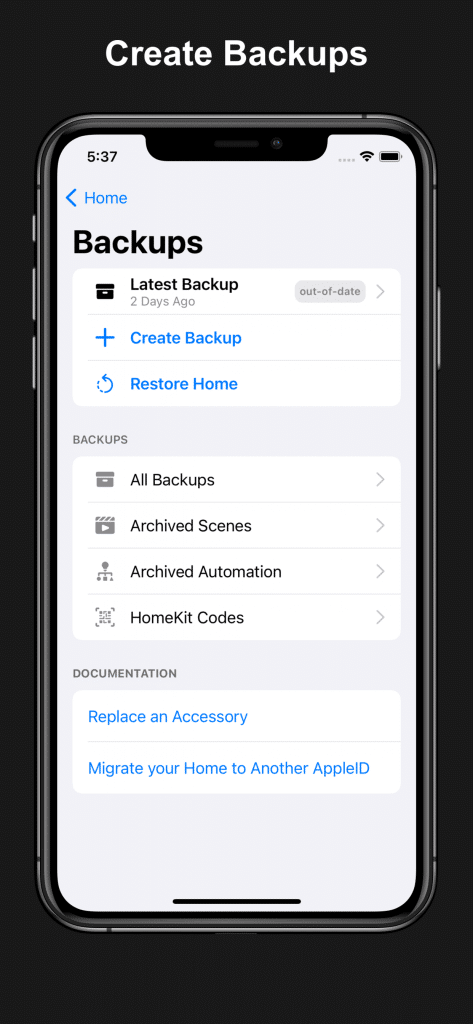 I can't get no satisfaction
Sometimes I think the Rolling Stones knew about the missing Apple HomeKit backup app back in 1965 when they released this song.
Apple smart home fans struggle with HomeKit. It's got a lot of challenges that users tolerate.
I'm more pragmatic – I won't use HomeKit for professional projects, but I keep using it in my own home.
It would be more accurate to say "I keep testing it" for my home. Nothing we rely upon – smart lighting, 24×7 video surveillance, whole-home music, and TV control is based on HomeKit.
HomeKit doesn't require a hub, but works much better when you have at least one. Then HomeKit is fun to play with, but lacks many basic features so it is difficult to rely on.
Recovery is painful
HomeKit does not have any built-in HomeKit backup app or restore capability.
Backup is not sexy like live camera feeds or having lights turn on or off automatically, but it is crucial to take a smart home system seriously.
Setting up HomeKit devices isn't that hard, but it is time consuming. When your entire HomeKit system goes belly up for some unknown reason, it is painful.
Run around to every HomeKit device and initiate a factory reset and set them up again.
A royal PITA when you have 20 or 30 devices and some of them have to be removed to see the tiny barcode or install numbers on a hidden label that is needed to start the HomeKit setup procedure over again.
But getting interactive control in the Apple "Home" app is only the beginning. Now you have to re-create all your scenes, groups, and automation routines.
Hopefully you have an actual written summary of your setup. Exactly what was supposed to happen when motion is detected at the front door at 3 am?
Which lights should turn on for 10 minutes and then turn off again?
Which devices are grouped together to operate as one?
Backup – finally!
Today I'm happy to share there is a major update to a great software utility for Apple HomeKit.
The Controller for HomeKit app has launched version 5.4 today. It is a huge upgrade that provides a complete HomeKit backup app and restore solution for Apple HomeKit.
You can backup your entire configuration to a local file or to your iCloud account.
You can restore your entire configuration, but you can also selectively restore. Browse through your backup and it will tell you which devices or scenes don't match your current configuration.
The app always ran on iOS, but it now runs on the latest Mac computers and the Apple Watch too.
It even has a mini-database to keep track of those pesky "HomeKit setup codes" that you need without having to look at the label on the devices themselves.
Like a HomeKit Swiss Army Knife
Controller for HomeKit has tons of other features. It lets you see lots of information about your devices that exist but Apple doesn't show you in the default app.
You can setup more advanced automations and have access to actual log files to see how a particular device is operating.
You need this
If you use Apple HomeKit and want to up your game, this is a no-brainer.
Get this app from the Apple App Store.
It is not free, but worth double or triple the price.
Written by a small team of independent software experts that take pride in their work and really care.
Support their efforts and just buy the app. It's one of the best values for a HomeKit add-on.